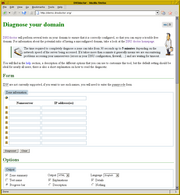 What is it, and why you need it
DNSdoctor is intended to help solving DNS misconfigurations or inconsistencies that are usually revealed by an increase in the latency of applications. The DNS is a critical resource for every network application, so it is quite important to ensure that a zone or domain name is correctly configured in the DNS.
History
DNSdoctor is a fork of ZoneCheck occuring at the version 2.0.4 (but keeping the same developper).
ZoneCheck was initiated and developed by engineers working at NIC France (INRIA's service) to check the correct configuration of a zone before delegating a domain name under .fr, and was in use until october 2003.
A second version of ZoneCheck was started from scratch by myself (as an AFNIC employee) at the end of 2002, emphasis was put on modularity and extensibility; this version has now taken over the responsibility of checking the delegation of domain under .fr
Where to get it
You can access the DNSdoctor website at the following URL: http://www.dnsdoctor.org/, but if you are dying to know if a (your?) domain is correctly configured you can directly jump to the online demonstration.