ANEP Socket v0.5
An active network node is capable of dynamically loading and executing programs written in a variety of languages. These programs are carried in the payload of an active network frame. The program is executed by a receiving node in the environment specified by ANEP. Various options can be specified in the ANEP header, such as authentication, confidentiality, or integrity. (from the ANEP-draft)
An implemenation of ANEP on top of IPv6 (and IPv4) has been made available, for the Linux kernel. This work was done as part of the AMARRAGE project, when working in the RESEDAS team at LORIA.
An archive has been created below, so that you can download:
MW-CVSweb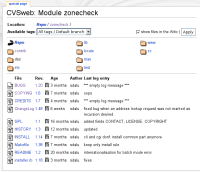 MW-CVSweb is an extension to MediaWiki which provides the special page Special:CVSweb. This page allows you to browse a CVS repository.
When developping an open source project, you generally welcome people's contributions; the idea here is to also encourage contributions to the website through the use of a Wiki, and this tool provides an integrated CVS browser to the Wiki plateform.
This is a port of the cvsweb application, to the MediaWiki plateform.
The current version (0.8.1) can be downloaded here: mw-cvsweb-0.8.1.tar.gz.